Solar generators are becoming an increasingly popular way for people to keep their power going in case of an emergency. A solar generator uses energy from the sun to generate electricity, providing a reliable and renewable source of power. They are also more eco-friendly than traditional gas-powered generators. With a solar generator, you will never run out of power as long as the sun is shining.
Solar generators are perfect for home backup, as they can provide a reliable source of power in the event of a black out or other emergency. But with so many different models available, it can be hard to choose the right one for your needs. In this article, we will take a look at 15 of the best solar generators for home backup and their key features, pros, and cons.
15. EF EcoFlow DELTA 2 Power Station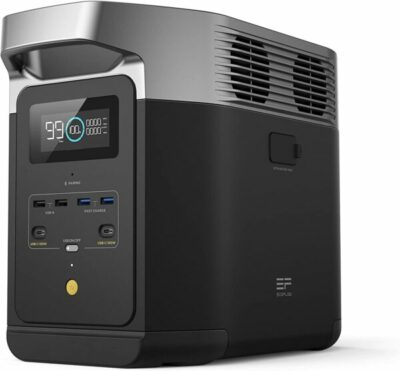 The EF EcoFlow DELTA 2 power station comes with a 1025wh LFP battery and is a solar generator that is designed to offer reliable, eco-friendly power for your home. It offers up to 1,800-watts of inverter power and 15 different outlets for all your power needs. With the DELTA 2, you can have peace of mind knowing that you will have safe and clean energy while camping, on an outdoor adventure, or during power outages.
Features of the EF EcoFlow DELTA 2 include a compact design, with an LCD display that indicates the charge level, an LED battery level indicator, an LED power switch, and an integrated storage system. The battery has an integrated cooling system that improves the life of the battery and helps you to use energy more efficiently.
The pros of using the EF EcoFlow DELTA 2 power station is that they are lightweight, easy to transport, and provide reliable power. They are also very efficient, with no noise or emission, and are compatible with a wide range of solar systems. The system also allows for extra batteries for more power storage.
The cons of this solar generator are that it is rather expensive. You also have to buy solar panels as the system doesn't come with them.
Overall, the EF EcoFlow DELTA 2 Power Station with Batteries is a great way to bring reliable, eco-friendly energy to your home. It is a great way to reduce your reliance on carbon-polluting energy sources while also bringing some of the convenience of modern technology to your outdoor adventure.
14. BLUETTI AC200P Portable Power Station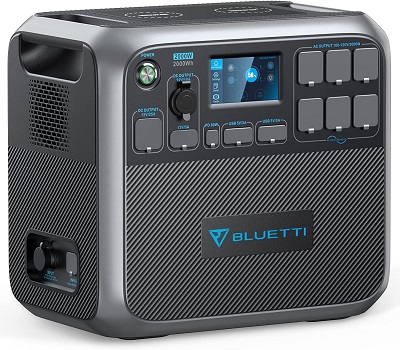 The AC200P portable power station from Bluetti is a great option for those who need a reliable and portable power source. It features a built-in solar MPPT controller for 700 watts input, making it easy to keep charged while on the go. Additionally, the AC200P has an inverter that produces 2000 watts. It has a number of other great features that make it a good choice for a portable power source, including:
-It can be charged via solar panel, AC outlet, or car charger
-It has multiple charging ports, including USB, Type-C, and QC 3.0
-It has a capacity of 2000wh, making it ideal for charging phones, laptops, and other devices
-It comes with a LCD display that shows remaining capacity and charging status
However, there are also some potential drawbacks to consider before purchasing the AC200P. These include:
-The unit is relatively heavy, weighing in at 60 lbs or more
-The price is on the higher end for portable power stations in its category
-It requires a solar panel (not included) to reach full capacity
Overall, the AC200P from Bluetti is a great option for those who need a reliable and portable power source. It features a built-in solar panel and multiple charging ports, making it easy to keep devices charged while on the go.
13. BLUETTI AC200MAX Portable Power Station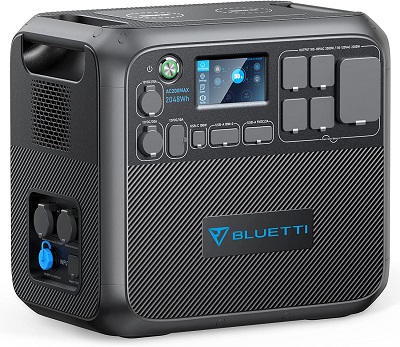 The Bluetti AC200MAX portable power station is a solar powered generator from Bluetti, a provider of solar backup power solutions. This power station is designed to be an all-in-one solution for RV, camping, and home use.
It has a rated capacity of 2048Wh LFP battery, making it capable of powering up to 10 devices simultaneously. The AC200MAX features four AC outlets and a 30A RV output. It's equipped with an LCD display and a reliable MPPT technology-enabled charging system that ensures its efficiency and effectiveness of 900 watts input.
The main benefits of the AC200MAX is its portability, advanced solar charging technology, and long run times due to the expansion battery option. The MPPT technology allows the system to with efficiently take energy from solar panels, making it ideal for camping and other outdoor activities. The power station offers a reliable long-term performance for all your backup needs.
The downside of the AC200MAX is that it's heavy, and expensive. It also does not come with solar panels, so you'll need to purchase them separately. Furthermore, the AC200MAX is not designed for high loads for long periods on its own, so it's not suitable for high-power devices like air conditioners as the expandable battery storage is limited.
12. Anker PowerHouse 767 Portable Power Station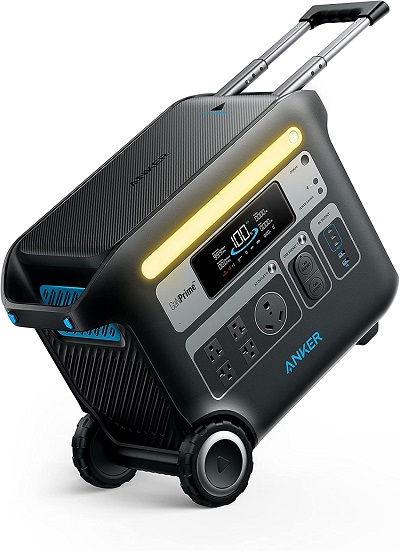 The Anker PowerHouse 767 is built to last over a decade, even with everyday use. With a inverter of up to 2400watts and 3 USB-C charging ports, 2 USB-A ports, and 2 car outlets, this solar generator can power all your devices at once.
The solar generator comes with a 2048wh LFP battery, which allows you to have full capacity for up to 3000 cycles before 80%. Due to the weight of this power station, it comes equipped with wheels and a handle for easy mobility.
The pros of the system is that it can be expanded with an additional battery and it offers a powerful inverter for the price point. It has the capacity to run a home or RV for back up power.
One of the cons of the generator is that it is considered heavy weighing in at almost 68 lbs. It has an expandable battery, but the battery charges after the main system is full and does not have solar charging capability.
11. Pecron E2000LFP Expandable Power Station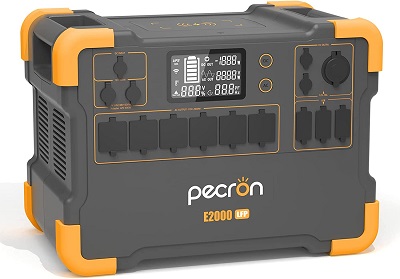 The Pecron E2000LFP expandable power station is a great addition to any home or office. It features an expandable design that allows you to add more batteries as needed, making it perfect for power outages or blackouts.
Additionally, the unit includes a built-in inverter and charger, so you can keep your devices charged and running even when the power goes out. The Pecron E2000LFP also has a number of safety features, including an automatic shut-off switch and overload protection, so you can use it with peace of mind.
The pros of this system is the expandable battery option of up to 9kwh. It has a 2000 watt inverter and can be charged at up to 1300 watts from the main system and 400 watts for each battery.Its also a great price for what you get.
The cons of this device is that it is still on the heavy side, though you can pay extra for the trolley for easy mobility. Like all the other solar generators on this list, it doesn't come with solar panels.