10. Goal Zero Yeti 6000X Portable Power Station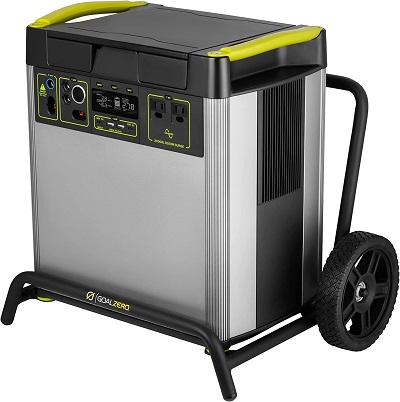 The Goal Zero Yeti 6000X portable power station is a powerful and reliable portable power station that can provide up to 6000 watts of power. It also has a built-in flashlight and an LCD display that shows the current battery level and charging status. The Yeti 6000X is a great choice for those who need a reliable portable power source for their homes or businesses.
One of the best features of the Goal Zero Yeti 6000X is its portability despite being heavy and can be easily transported from one location to another. Another great feature is the variety of ports that are available and it has a 1200 watt solar input capacity. It has a 2000 watt inverter to power various appliances and more.
Some cons include limited AC outlets of two. It weighs 106 pounds, which can be a challenge for many if you need to lift the power station.
9. Titan Solar Generator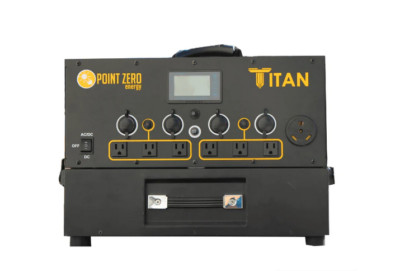 One of the most adaptable portable solar generator available is the Point Zero Energy Titan Solar Generator. The Point Zero Energy Titan solar generator offers dependable solar backup power in any circumstance thanks to its high-quality and incredibly efficient construction.
It has a lithium battery pack with a capacity of 2,000 watt hours and a 3,000 watt power inverter with a 6,000 watt surge. It is entirely scalable, so you can increase the size of your system by adding additional 2,000 watt-hour battery packs.
Two MPPT charge controllers, each of which can handle up to 1,000 watts of solar input, are also included with the Point Zero Energy Titan generator. Therefore, you can easily recharge the batteries using solar panels or the included conventional AC wall connector.
8. Hysolis MPS3K Solar Generator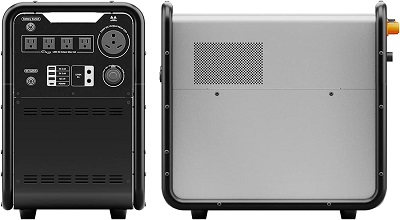 The Hysolis MPS3K solar generator is a powerful and reliable off-grid power solution that uses the sun's energy to create up to 4,500 watts of battery storage. It is suitable for a variety of applications, such as providing energy to outdoor work sites, remote locations and cabins, charging electric cars and much more. The battery is made with durable Lithium-ion (NCM) cells and has a 3000 watt inverter. It also comes with a 5-year warranty.
The MPS3K has a variety of features that make it ideal for an off-grid power solution. It includes USB outputs for charging devices, a 12-volt socket for lights, and four 120-volt AC outlets for powering larger appliances and a 25 amp connection for RV or home back up. It also features overcharge protection, surge protection, and a low-voltage cutoff feature.
The MPS3K benefits from a flexibility on hand with its wide range of applications. Due to its efficient solar input of 1500 watts , it provides more than enough energy to power a range of appliances, including refrigerators, air-conditioners, and electric cars. It also allows for expansion, so you can have more power from an additional battery.
The main disadvantage of the MPS3K is its cost, which can be relatively expensive. Additionally, if there is not an adequate amount of sunlight to power the solar array, then this will significantly reduce the generator's efficiency. Finally, due to its size, the MPS3K is not a portable solution like some of the other solar generators in the market.
Overall, the Hysolis MPS3K solar generator is an excellent source of off-grid energy for larger applications. However, its cost and lack of portability may prove difficult for some users.
7. EF EcoFlow DELTA Pro Power Station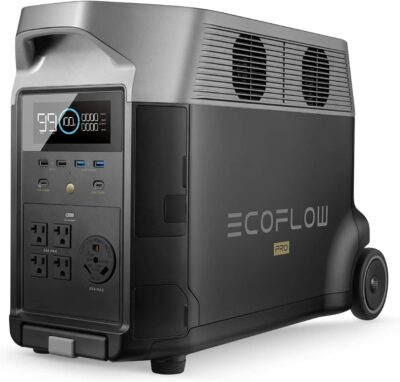 The EF EcoFlow DELTA Pro Power Station is a versatile and powerful portable generator that can be used for a variety of purposes. It features a unique design that makes it easy to use and transport, and it has a wide range of safety and efficiency features that make it a great choice for anyone looking for a reliable and affordable way to generate power.
However, there are some potential drawbacks to using the EF EcoFlow DELTA Pro Power Station, so it's important to weigh its pros and cons before making a purchase.
The EF EcoFlow DELTA Pro Power Station's biggest selling point is its versatility. It can be used as an emergency backup power source, a camping or RV generator, or even as a primary power source for off-grid living. It has enough power to run most small appliances and electronics, and it can even be used to charge batteries or run small lights.
Despite the its power ability, the DELTA Pro is surprisingly light at 35.3 lbs. It has a 3600wh LFP battery and the ability to max out at 25kWh. The 3600 watt inverter ca power most tools and appliances, making it ideal for home and job sites. The battery is good for 6500 cycles before 80% and the solar input is 1600 watts, one of the highest on the market.
One of the cons of this solar generator is the price. The EF EcoFlow DELTA Pro Power Station is very expensive, making it one of the higher-priced options on the market.
6. BLUETTI AC300 Expandable Power Station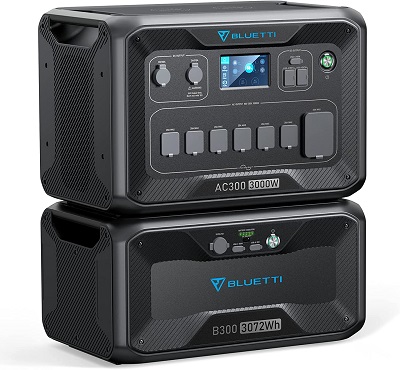 The Bluetti AC300 Expandable power station is a versatile and powerful piece of equipment that can be used to power a wide variety of devices. Its many features make it a great choice for those who need a reliable power source, while its pros and cons should be considered before making a purchase.
The AC300's most notable feature is its expandability of 12,288Wh. The system doesn't have a built in battery, so you need to buy those separately. A total charge input of 5400 watts and a 3000 watt inverter makes it an ideal choice for those who have high-powered devices or who need to power multiple devices at once.
The pros of this item is the high solar input of 2400 watts and its huge battery expandability. It uses 120 and 240 volts making useful for all devices.
The cons of this power station is that it cannot be used on its own as a battery is needed. It doesn't come with solar panels and it is expensive.